IAS Transfers: 44 IAS officers have been transferred in Maharashtra. Among these transfers, Rohan Ghuge has been transferred to Chief Executive Officer, Zilla Parishad, Wardha. Pradeep Vyas has been posted as Upper Chief Secretary Tribal Development.
Meanwhile, Sanjay Khandare has been transferred as Principal Secretary, Department of Public Health, while Secretary Ashwini Joshi will take charge of the Ministry of Medical Education and Drug Administration. Nilesh Ghenta has been transferred as Chief Executive Officer SRA, Pune.
Milind Mhaiskar has been appointed Principal Secretary Air Customs and State Excise and Anup Kumar as Minority Secretary A. R. Kale has been given the post of Food Administration Commissioner. Harshdeep Kamble Principal Secretary Industries, Energy Workers, Leena Bansode will hold charge as Additional Commissioner Tribal Development, Thane. Kaustubh Diveghavkar will be Project Director, Balasaheb Thackeray Agriculture Business Village Development, Pune while Devendra Fadnavis confidant Praveen Darade will work as Secretary in Environment Department.
The list of transfer of officers is as follows. Name and place of new appointment in parentheses in order: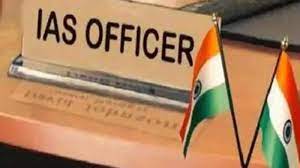 1) Smt Leena Bansod (Additional Commissioner, Tribal Development, Thane)
2) Vivek Johnson (Chief Executive Officer, Zilla Parishad, Chandrapur)
3) Dr. Ramaswamy N. (Commissioner, Skill Development, Employment and Enterprise, Navi Mumbai)
4) Abhijit Raut (District Magistrate, Nanded)
5) Dr. Harshdeep Shriram Kamble (Principal Secretary, Industries Department)
6) Smt. Jayashree S. Bhoj (Additional Charge of DGIPR & MD, Maha IT Corporation)
7) Parimal Singh (Project Director, Nanaji Deshmukh Agricultural Sanjeevani Project, Mumbai.)
8) Rajesh Narvekar (Municipal Commissioner Navi-Mumbai Municipal Corporation)
9) AR Kale (Commissioner, Food and Drug Administration, Mumbai)
10) Abhijit Bangar (Thane Municipal Commissioner)
11) Dr. Vipin Sharma (Chief Executive Officer, MIDC, Mumbai)
12) Nilesh Ramesh Gatne, (Chief Executive Officer, SRA, Pune.)
13) Saurabh Vijay (Secretary, Department of Culture and Tourism)
14) Milind Borikar (Chief Officer, Mumbai Housing and Area Development Board)
15) Avinash Dhakne (Managing Director, Dadasaheb Phalke Filmnagari)
16) Sanjay Khandare (Principal Secretary-1 Public Health Department)
17) Dr. Anbalgan P. (Chairman & Managing Director Power Generation Company)
18) Deepak Kapoor, (Additional Chief Secretary, Water Resources Department)
19) Smt. Valsa Nair (Principal Secretary, Housing)
20) Smt. Manisha Patankar-Mhaiskar (Principal Secretary and Chief Protocol Officer, Ministry, Mumbai and Additional Charge Marathi Language Department)
21) Milind Mhaiskar (Principal Secretary, Civil Aviation, General Administration Department, Mumbai and Additional Charge Principal Secretary State Excise)
22) Praveen Chindhu Darade (Secretary, Environment Department)
23) Tukaram Mundhe (Commissioner FW & Director, NHM, Mumbai)
24) Anup Kumar Yadav, (Secretary, Minority Development Department)
25) Dr. Pradeep Kumar Vyas (Additional Chief Secretary, Tribal Development Department)
26) Dr. Ashwini Joshi (Secretary, Medical Education)
27) Dipendra Singh Kushwaha (Development Commissioner, Industries)
28) Ashok Shingare (District Magistrate, Thane)
29) Smt Shraddha Joshi (MD of Maharashtra Tourism Development Corporation)
30) Manuj Jindal (Chief Executive Officer, Zilla Parishad, Thane)
31) Sachin Ombase (District Magistrate, Osmanabad)
32) Aman Mittal (District Magistrate, Jalgaon)
33) Rajesh Patil (Director, Sainik Welfare, Pune.)
34) Mrs. Ashima Mittal (Chief Executive Officer, Zilla Parishad, Nashik)
35) Kirti Kiran H Pujar (Chief Executive Officer, Zilla Parishad, Ratnagiri)
36) Rohan Ghuge (Chief Executive Officer, Zilla Parishad Wardha)
37) Vikas Meena (Chief Executive Officer, Zilla Parishad, Aurangabad)
38) Smt Varsha Meena (Chief Executive Officer, Zilla Parishad, Jalna)
39) KV Jadhav (Joint Managing Director, MSRDC, Mumbai)
40) Kaustubh Divegaonkar, (Project Director, Balasaheb Thackeray Agribusiness and Rural Development Project, Pune)
41) M. Devendra Singh (District Magistrate, Ratnagiri)
42) Vivek L. Bhimanwar (Transport Commissioner)
43) Rajendra Nimbalkar (Managing Director MSSIDC)
44) Dr. Bhagwantrao Namdev Patil (Municipal Commissioner, Nanded Waghala Municipal Corporation)
Web Title: Where are the IAS officers transferred in the state of Maharashtra ?
Peruse Most recent Marathi News Titles of Maharashtra, Live Marathi Fresh insight about Mumbai, Pune, Governmental issues, Money, Amusement, Sports, Occupations, Way of life at Rajenews.com. To Get Reports on Versatile, Android and iOS.
Morning now on all virtual entertainment stages. Follow us on Wire, Facebook, Twitter, Offer Visit and Instagram for the most recent updates and furthermore buy into our YouTube Channel English Raje News Marathi today.
Join Whatsapp for Daily Updates