On May 9, the Indian Meteorological Department (IMD) said that Hurricane Asani is likely to weaken in the next 48 hours. Asani is the first cyclone of the season.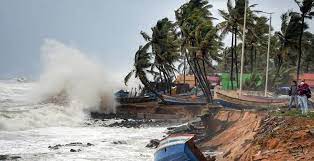 Which country gave the name Asani ?
Sri Lanka.
What is the meaning of Asani ?
In Sinhala, spontaneity means 'anger'.
Where is the hurricane and in which direction is it moving ?
By noon on May 9, Cyclone Asani was about 680 km south-south-east of Puri and 580 km from Visakhapatnam.
It is moving at a speed of 25 km per hour towards the coast of Andhra Pradesh and Odisha in the Bay of Bengal. The cyclone will easily move to the north-northeast and is expected to move from the coast of Odisha to the Bay of Bengal.
What will be the effect of the cyclone ?
Several districts of coastal Odisha will receive light to moderate rains from the evening of May 10 (Tuesday) and Gajapati, Ganjam and Puri will receive torrential rains (7-11 cm) at one or two places.
What is a tropical cyclone ?
A tropical cyclone is a low pressure system that forms on tropical water. Tropical cyclones can last for days, even weeks, and take unpredictable routes. Once they pass over land or the cold oceans, the hurricane will disappear.