Koykod, Kannur and Malappuram districts on high alert due to Nipah virus in Kerala
RajeNews_September_6_2021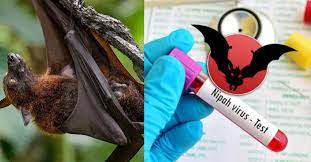 Attempts have been made to find the source of Nipah virus in Kerala. Kerala Health Minister Veena George has said that efforts have been intensified to find the source of the Nipah virus. He said next week is crucial for the state given the outbreak of Nipah. Koikod, Kannur and Malappuram districts are on high alert. According to health experts, there is nothing to fear in Nipah. To find the source of the virus, the Animal Welfare Department has started collecting samples at Chathamangalam in Koikod district, where the virus was confirmed.
Meanwhile, efforts are underway to find Nipah preventive measures at Koikode Medical College. A 12-year-old boy died of the virus in Koicode yesterday. The results of the investigation of seven people who came in contact with the dead child will come out by this evening.
What is Nipah virus, how does it spread?
According to the World Health Organization, NIPA is a zoonotic virus. That is, it spreads from animals to humans. It can also be transmitted through contaminated food or directly into humans. In people infected with the disease, it can lead to a number of illnesses, from asymptomatic subclinical infections to acute respiratory illnesses and malignant encephalitis. The virus can also cause serious illness in animals such as pigs, resulting in significant economic losses to farmers.
Although the Nipah virus has caused only a few known outbreaks in Asia, it does infect a wide range of animals. It also causes serious illness and death in people, making it a public health concern.
Nipah virus history –
The world's first recognized Nipah outbreak was reported in 1999 among Malaysian pig producers. According to the WHO, "During subsequent outbreaks in Bangladesh and India, the Nipah virus spread directly to humans through close contact with human secretions and discharges. Transmission of the virus was reported in 2001 in Siliguri, India. Health care setting, where 75% of cases were found in hospital staff.
Symptoms of Nipah virus, death rate | Symptoms of Nipah virus, mortality-
According to the WHO, human infections range from asymptomatic infections to acute respiratory infections and malignant encephalitis. Infected people initially experience symptoms such as fever, headache, myalgia i.e. muscle aches, vomiting and sore throat. This may be followed by dizziness, drowsiness, altered consciousness and neurological signs. Which indicate acute encephalitis. Some people may also have atypical pneumonia and acute respiratory problems, including acute respiratory distress. Patients with encephalitis go into a coma within 24 to 48 hours. It lasts 4 to 14 days from infection to the onset of symptoms. It is considered.
Symptoms of Nipah virus –
-Heat
-Headache
-Cough
Sore throat
-High breathing
-Vomiting
-Serious symptoms may appear, such as:
-Sleepiness or confusion
-Coma
-Encephalitis
Nipah virus treatment:
"There are currently no drugs or vaccines available for Nipah virus infection.
More News –