Amazon India Kisan Store Inauguration by Agriculture Welfare Minister Narendra Singh Tomar
RajeNews_4_September_2021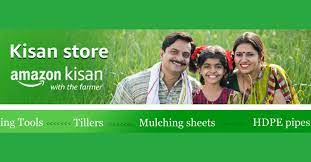 Amazon India recently announced the launch of Kisana stoara. The store was inaugurated by Union Agriculture and Welfare Minister Narendra Singh Tomar on September 2, 2021.
Brief information about Kisan Store –
Kisan Store is an online platform. Through which farmers in India have access to more than 8000 agricultural implements including agricultural implements and equipment, seeds, nutrition etc.
These products are listed by small and medium businesses. Also these products will be available on Amazon India at reasonable prices and will be delivered to the doorsteps of the farmers. That's according to Amazon.
The store will feature thousands of products from more than 20 brands. The Kisan store will be available in Hindi, Telugu, Kannada, Tamil and Malayalam, Amazon said.
What is Amazon Easy Store?
Amazon has launched more than 5,000 Amazon Easy stores for farmers with the help of store owners (Amazon India). The store owner will help the farmers to find the right product from the store and identify their favorite product.
Agricultural Science Service –
Amazon has also launched an agricultural science service for farmers. This will give timely advice to the farmers as well as enable them to make accurate decisions about the work required for their crops.
Amazon India launches Kisan Store to introduce machine learning technology for better production. At the same time, strong supply chain infrastructure will be created.
More News –