The Taliban claim control of the Panjshir Valley in Afghanistan
RajeNews_September_07_2021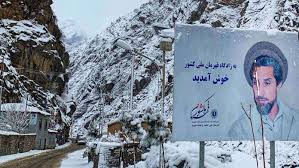 Panjshir Valley is located north of Kabul. Both sides claimed control of Panjshir, but no one was able to present conclusive evidence to prove it.
Panjshir Valley History Against Taliban –
The Taliban have not been able to gain control of the valley since 1996, when they ruled Afghanistan. But on the night of September 3, 2021, the war in Panjshir province escalated. Two senior leaders of the National Resistance Front were killed during the fighting. According to reports, he has gone to safety after a helicopter attack on the home of Afghanistan's acting president, Amrullah Saleh.
Panjshir Valley –
Panjshir is one of the 34 provinces of Afghanistan. It is located in the northeastern part of Afghanistan. Which includes the Panjshir valley. It is divided into seven districts with 512 villages. The provincial capital of Panjshir is Bajrak. This area is currently controlled by the National Resistance Front of Afghanistan.
Panjshir is an independent province Panjshir Valley an independent province –
In 2004, Panjshir became an independent province from Paranj province. It is bounded on the north by Baglan and Takhar, on the east by Badakhshan and Nuristan, on the south by Lagman and Kapisa, and on the west by Parwan.
Provincial capital of Panjshir Province –
It is the provincial capital of Panjshir province, comprising six villages, namely, Jangalkhan, Khanej, Malaspa, Parande and Rahmankhel. The tomb of Ahmed Shah Masood (Lion of Punjab) is at Bajrak.
More News –