Agreement between the Government of India and the National Socialist Council of Nagaland-K
September 9, 2021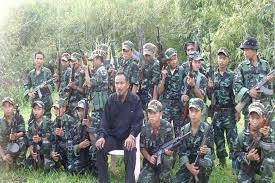 Socialist Council of Nagaland, National Socialist Council of Nagaland In a bid to promote the Naga peace process, the Indian government has signed a one-year ceasefire agreement with the National Socialist Council of Nagaland-K, or Nikki.
Meanwhile, total of more than 200 Nikki activists have participated in it with weapons. On 08th the armistice agreement and the terms of the armistice were signed. The Center has already signed a ceasefire agreement with NLCN-IM, NSCN-IM, NSCN-K-KHANGO and other Naga groups.
Last year in August 2019, 88 activists joined the mainstream of Tripura with arms after the central government signed an agreement with NLFT-SD. Moreover, after the signing of the Bodo Agreement in January 2020, more than 2,250 activists of the rebel group, including all groups of the ND FB, surrendered in Assam with their 423 weapons and large stockpiles of ammunition and joined the mainstream. In February 2021, 1,040 leaders and activists of various underground Karbi groups in Assam surrendered with 338 weapons. Also last week, the Karbi Anglong agreement was signed.
More News –
More News –